Mission Outreach
Missionary Letters are available at the back of the Sanctuary. Keep up on our missionaries by taking home their newsletters.
Martin Corder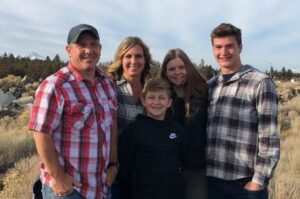 Martin Corder, FBC Ashland Elder and Marketing Director at Youth 71Five Ministries (formerly Rogue Valley YFC). Marty first started volunteering while attending Southern Oregon University in 1991 and in 2010 was hired into a full time ministry position.
As a Marketing Director, Marty informs supporters, volunteers and advocates the need to connect hurting kids with caring adults and form healthy authentic mentoring relationships. Collaborating with like-minded and other willing organizations, businesses and individuals for support. Increasing awareness of 71Five's purpose in serving the community and developing strong organizational advocates, willing volunteers and faithful financial partnerships. Encouraging community involvement in youth programs focusing on the mental, physical and spiritual growth of kids. Some of Martin's focus includes Website Content, Blogging, Social Media Management, Public Relations, Print and Electronic Communications (eGrams, Newsletters, Flyers and Brochures), Big Event Fundraising, Donor Relationship Management, Organization Branding and Marketing Development. www.71Five.org
martin

@71Five.org
(541) 779-3275 (Bio courtesy of 71Five)
Dennis and Luiza Strellman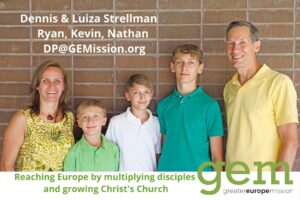 Dennis & Luiza Strellman – HungaryGreater Europe Mission. The Strellmans bring the light of Christ to Europe. Luiza leads MOPS in Hungary (Mothers of Preschoolers), helping other women to start and lead groups that disciple moms. Dennis (DP) leads GEM Hungary, so he recruits, leads, develops, and cares for other missionaries with diverse ministries. He is developing new ministries, like Media to Movements which uses the power of social media to find spiritual seekers online so that trained Hungarian Christians can disciple them in person. He also serves on the GEM Focus City team for Europe, building momentum for multiplication in Frankfurt, Berlin, Athens, and Birmingham UK.
Women's Missionary Fellowship (WMF)

The women from FBC Ashland Meet the 2nd Tuesday of the month at 9:30 in the Fellowship Hall. Contact Shirley Deule for more info.