Missions
Missionary Letters are available at the back of the Sanctuary. Keep up on our missionaries by taking home their newsletters.
Strellman Family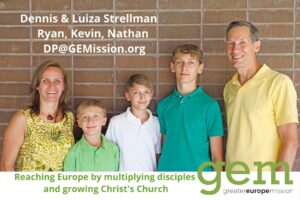 Dennis & Luiza Strellman – HungaryGreater Europe Mission. The Strellmans bring the light of Christ to Europe. Luiza leads MOPS in Hungary (Mothers of Preschoolers), helping other women to start and lead groups that disciple moms. Dennis (DP) leads GEM Hungary, so he recruits, leads, develops, and cares for other missionaries with diverse ministries. He is developing new ministries, like Media to Movements which uses the power of social media to find spiritual seekers online so that trained Hungarian Christians can disciple them in person. He also serves on the GEM Focus City team for Europe, building momentum for multiplication in Frankfurt, Berlin, Athens, and Birmingham UK.
WMF (Women's Missionary Fellowship)
Meets the 2nd Tuesday of the month at 9:30 in the Fellowship Hall. Contact Lorraine Hays for more info.